UNDERFLOOR HEATING
THE REVOLUTION IN HEIGHT AND EFFICIENCY
---
INVISIBLE AND SILENT
Use your living space as you you want - without compromises. This underfloor heating system requires neither a boiler room nor or protruding objects and is and is completely silent.
HEALTHY FOR HOME AND PEOPLE
The pleasant warmth has a has a soothing effect on the body and also your house will be grateful. The building fabric is dried and thus increasing its natural insulation value.
RESPONSIVE
The full carbon coating of this heating system converts electricity electricity into heat almost without loss and provides a noticeably warm floor covering within minutes.
BIG STRENGTH - LOW BUILD HEIGHT
Depending on the floor covering, build-up heights of only 4-5 mm are possible (WITHOUT floor covering).
Operating voltage: 230V only
THE REVOLUTION IN HEIGHT AND EFFICIENCY
Absorption: approx. 115W/m²
Operating time: On average 1-3h per day per year
SIMPLE REGULATION
Control the temperature via thermostats or conveniently from your from your mobile phone when you are when you are on the move. You can also heat rooms rooms individually and save money.
QUICK ASSEMBLY, DUST-FREE
Whether new build or renovation, whether parquet or tile - the installation of such an underfloor underfloor heating is very clean and is completed after just a few hours completed.
COST-SAVING
Benefit from low investment, installation and operating costs and maximise maximise your cost efficiency with photovoltaic systems. What's more: Maintenance-free!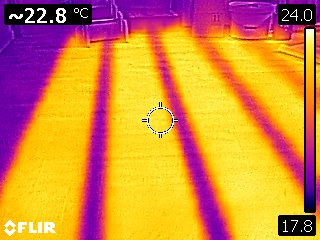 Infrared image of a floor with carbon underfloor heating. This thermal image shows how how homogeneously the infrared full carbon heating foil heats the heats up the floor covering and thus transmits the pleasant the whole room.