THERMOLINE EXTERIEUR
The intelligent SKIN for YOUR HOUSE
---
On a façade or masonry, less moisture absorption and better dehumidification are achieved, and optimal insulating properties are restored. are restored. At the same time, a higher solar input into storable substrates, even with diffuse radiation, is made possible.

The heating energy demand of a building depends on the thermal sensation of its occupants. If a person feels comfortable and at ease, the so-called "feel-good" temperature has been reached. The best, quickest and cheapest way to achieve this is not through warm room air, but rather through the radiation of warm walls.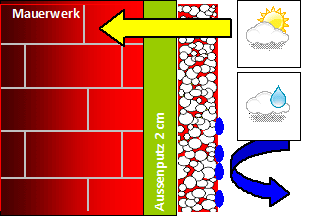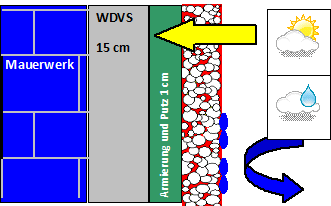 As with THERMOLINE INTERIEUR, 50% of the dry substance of the paint consists of microscopically small hollow glass particles. Through this structure solar energy can penetrate and be stored in massive building components and building materials. The result is measurable. On the inside of the the temperature on the inside of the building's exterior walls increases by up to 1.5 degrees Celsius. This leads to a dry and warm wall and thus to significant savings in heating energy and thus to a significant saving of heating energy. In summer, on the other hand, the reverse vapour pressure gradient takes effect. The vapour pressure increases inwards, which results in better evaporation of moisture and a cooling effect on the inside of the outer wall.
Thermally insulated façades with, for example, ETICS, are a major point of contention nowadays (see also videos - ETICS), not only among building physicists. They usually do not achieve the promised results or energy savings and have a strong tendency to staining and algae formation on the surface. Due to the insulation layers, solar gain into the masonry is not possible. However, the use of THERMOLINE EXTERIEUR can extend the renovation intervals of these facades. Surfaces can be extended by up to 100%. Due to the properties described, this can be achieved without the use of of poisons, only with biocidal additives.

The partial glass surface of THERMOLINE EXTERIEUR causes the surface to dry more quickly. Dry facades become soiled less quickly than than moist facades. Less embrittlement leads to less water absorption. This makes the façade surface much more resistant to environmental environmental influences. According to current Lavor and practical studies, according to calculations and based on the numerous practical experiences of THERMOLINE EXTERIEUR achieves energy savings of up to 15%.
THERMOGRAPHY:
Thermographic images after the test setup with homogeneous masonry units.

The right side of the two test specimens was coated with normal façade paint on normal façade plaster. The substrate absorbs very little energy and cools down very quickly.

The left side of the two test specimens was coated with THERMOLINE EXTERIEUR. During the day, the substrate absorbs solar energy and heat radiation much better. The heat is stored in the building structure and can be slowly released again during the night.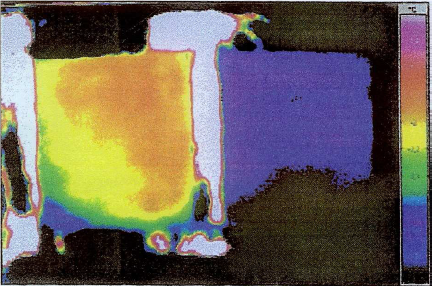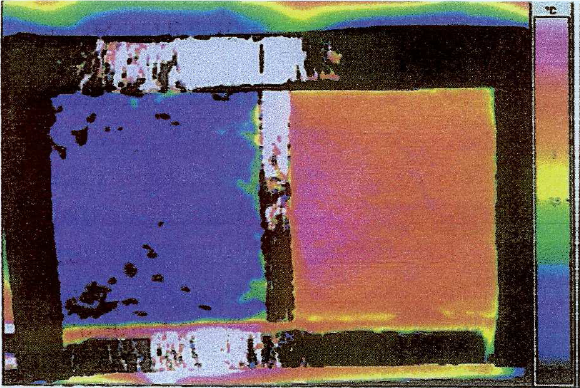 The video for explanation:
THERMOLINE
enables better heating of walls due to the glass surface

mproves comfort, indoor climate and well-being

reduces convection

creates even surface temperatures

creates even temperatures in the room

improves energy utilisation

calculable heating cost savings of up to 25%

improves the exchange of heat radiation

improves the absorption of solar energy even at low radiation levels
improves heat transfer to surfaces that can store heat

up to 60 % faster heating-up behaviour

regulates building component humidity and indoor air humidity

prevents the formation of mould

protects the building fabric

reduces diffusing air pollutants

is free of pollutants and toxins

does not pollute the environment

is available in over 20,000 colour variations