THERMOLINE INTERIEUR
helps save heating costs
---
THERMOLINE INTERIEUR has a high proportion of microscopically small glass beads, which make up about 50% of the dry substance. the moisture-absorbing surface of the paint on walls, ceilings and roof slopes up to 30 times! This reduces the entry of moisture from the room air into the deeper building substance and results in faster, better and more appropriate drying. and more demand-oriented drying/ventilation. The rapid regulation of the room air humidity that takes place in this way also achieves a rapid and perceptible comfort in the room is achieved. Ventilation heat losses are avoided.

Through this exchange, the surface surface temperatures of ceilings and walls equalise and thus achieve an even distribution of heat in the room. This is noticeable with up to +3 degrees Celsius higher temperature on the surface of the wall/ceiling. Due to the warmer walls and ceilings, even at lower room thermal comfort is already achieved at lower room air temperatures. You now save significantly on heating energy.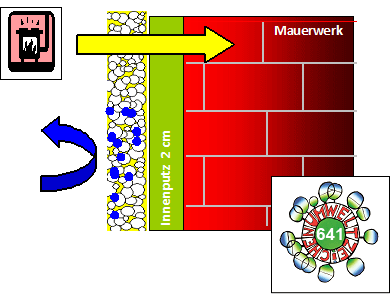 THERMOLINE INTERIOR is free from harmful substances that are used in many conventional interior paints, such as biocides, preservatives or additives from nanotechnology, preservatives or additives from nanotechnology. Building biology tests confirm the excellent, high-quality and healthy quality. THERMOLINE INTERIEUR was awarded the UZ17 (Hundertwasser) eco-label by the Austrian Ministry of the Environment. After current laboratory and practical tests, after calculations and on the basis of the numerous practical experiences of users, THERMOLINE INTERIEUR achieves energy savings of up to 25%. The surface temperature of the room enclosure surfaces increases by up to 3 degrees Celsius.
The video for explanation
THERMOLINE
Enables better heating of walls due to the glass surface

Improves comfort, indoor climate and health well-being

Reduces convection

Creates even surface temperatures

Creates even temperatures in the room

Improves energy use

Calculable heating cost savings of up to 30% !

improves the exchange of heat radiation

Improves the absorption of solar energy even with low radiation
Improves heat transfer to storable substrates

up to 60 % faster heating-up behaviour

regulates building component humidity and room air humidity

prevents the formation of mould

protects the building fabric

reduces air pollutants that diffuse out of the building

is free of pollutants and toxins

does not pollute the environment

is available in over 20,000 colour variations